As a family, we are always looking for activities for our little ones to have fun, learn and play. They need to unload all that energy and at the same time develop their skills and motor abilities. We want them to do this and also to discharge their inexhaustible energy batteries.
In winter, skiing and its variants are the favorite choice of young and old alike.
In winter, skiing and its variants are the favorite choice of young and old alike. There is no doubt that Switzerland's orography and climate make winter sports one of its main assets and attractions. In the summer, the geography offers a different kind of activity for everyone. When the snow is gone, it leaves the trails and jumps open. When it leaves, it opens up a whole new range of things to do and have fun with.
But let's focus on the sports and activities we can do. Let's focus on the challenge they bring. In every sport, there is an initiation phase, followed by an improvement phase until we reach the improvement phase. We all want to get through these phases and we all want our people to get through them. The joy and personal satisfaction that comes from overcoming is undoubtedly one of the best feelings.
To help you get through these steps, there is a network of official and other schools, clubs and academies that have the resources and instructors you need. They all work very hard to prepare the activities and courses. It all starts with choosing the most interesting and popular activities, which is not an easy task. Then it's a matter of choosing the right people to teach the activities. This is a real challenge, because not everyone can do it. It is one thing to know how to do something and it is another to know how to pass that knowledge on to others.
With Boukii Sport, you can contact all those who are dedicated to it, from anywhere and at any time, since it is a free application for your cell phone.
In addition, we at Boukii are aware that organizing sports activities for the whole family requires time and effort from the person in charge. The more family members there are, the more complicated it is to coordinate everyone's activities.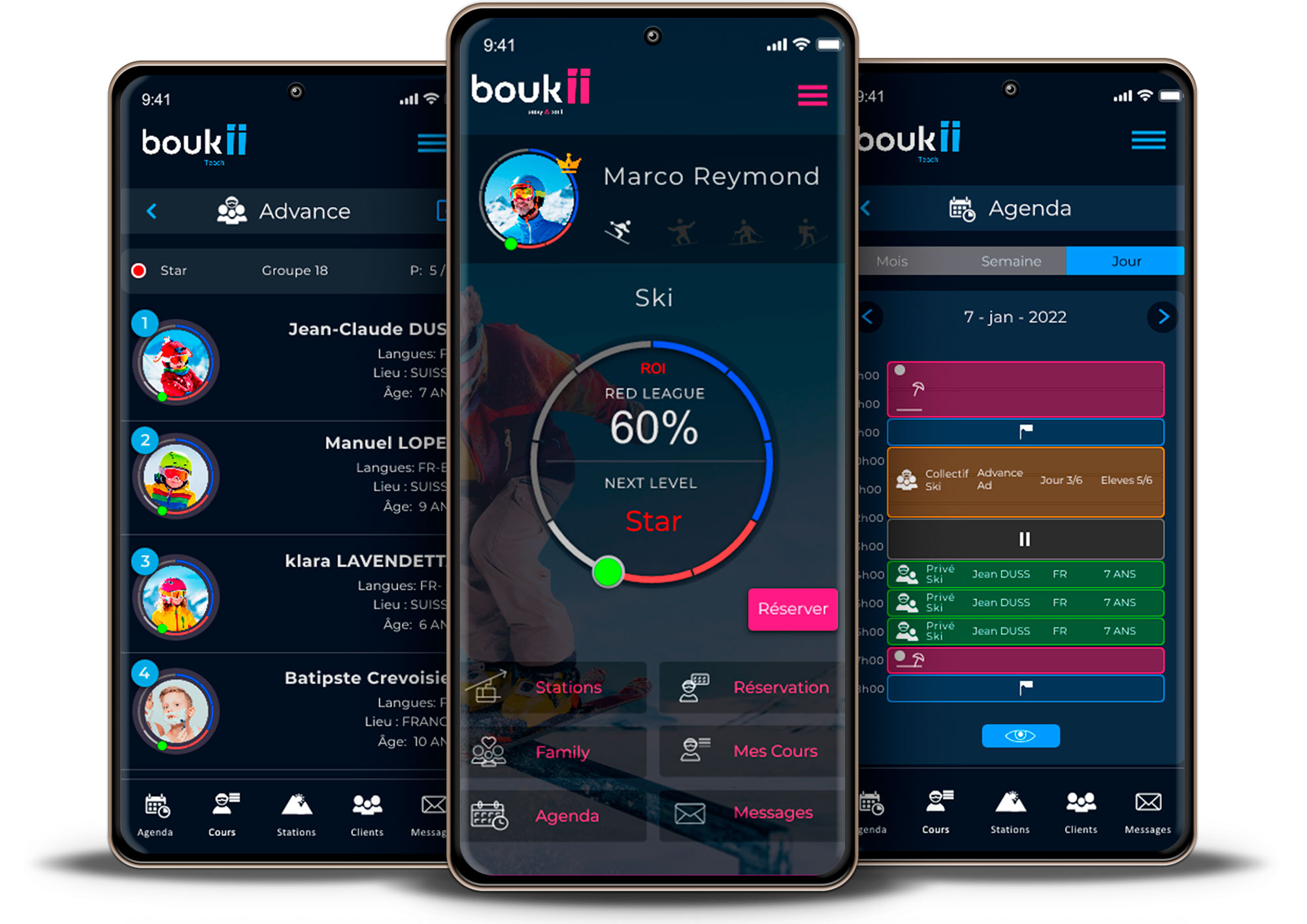 Boukii Sport is a free app that you can download for your iOS and Android devices.
With this in mind, we've designed Boukii Sport so that you can organize all these activities quickly and easily. We want you to be able to book a ski lesson or a mountain biking course, so that it takes less time and effort than ordering food from home. We want you to be able to meet your assigned instructors beforehand and have them evaluate you so that you can constantly improve.
Trust us for your activities, simplify your life and access many additional services offered on site, such as restaurants or stores.
Boukii, with the families, with you wherever you are.